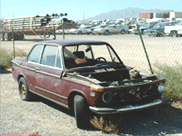 We've been building 2002's locally for over a decade, and we strive to build the car that you want. We encourage you to be involved with each process of the build, from picking out the style of the wheels, to the firmness of the suspension, and the quality of the paint. Your builds can be completely stock, heavily modified, or anywhere in between
BMW classic parts and shop labor rates continue to rise making Classic Vehicle Restoration an expensive undertaking. Many people are surprised to learn the average shop price of a "Nut & Bolt" restoration for a BMW 2002 is often over $125K. A cosmetic, or partial restoration, will certainly vary dependent on the "before" condition of the vehicle and will often range from $30K-$65K.
Many restoration shops simply want a no limit opportunity to show case the best of their abilities. We will present several options for each stage of the build to help you create the classic vehicle that you want at the budget that you can afford. Our goal is to get the driver back behind the wheel, be it a concourse restoration or simply a back yard rescue.
To see more of our 2002 restorations, visit only02.com