Exterior
An engine out, glass out, re-spray has been completed in factory Schwartz Black.

All new seals have been fitted throughout; including door seals, windshield seals with new chrome locking strips, all new quarter window seals and vertical seals, new door handle seals, mirror seal, under-hood engine seals, drain tubes, all the way down to windshield washer arm grommet seals and more.

The chrome shines brightly and all the trim work has been professionally polished for that extra shine against the beautiful glossy black finish.

The headlights are vintage Marchal H4 Flat Euro Lens, and the flush euro turn signal lights are new, along with several new old stock pieces including new original aluminum roundels front and rear.
The Turbo Flares are nicely filled with vintage Enkei three piece wheels, with new 205/50/15 tires.
Interior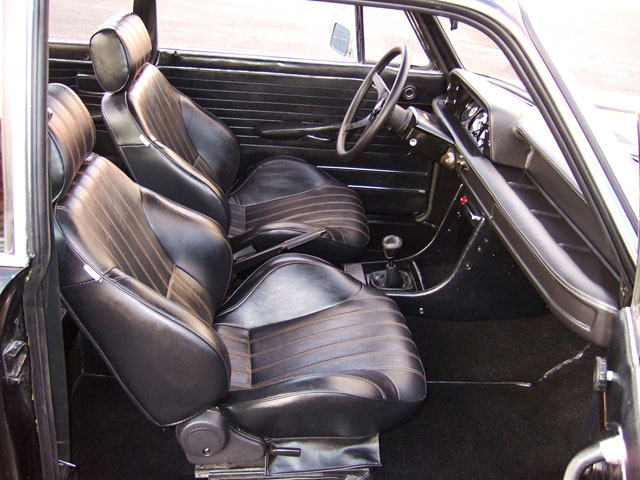 The interior has been completely refinished. Beginning with the dash, which has been custom wrapped in black vinyl and hand stitched for a great looking period piece.
The double white stitching is mirrored the new Black Rally Seats and custom matching new rear seat. A new carpet kit has been installed along with a new rear parcel tray, and all new pillar vinyl for a nice clean look.
The steering wheel is a vintage Alpina MOMO that has been been re-wrapped and featured with out the horn pad and is complemented a matching vintage MOMO gear shift knob.
Mechanical
The car has incredible power, starts instantly, and pulls hard through the gears. The engine has been completely rebuilt and fitted with all new accessories.
The block was bored 30 over and then fitted with new Maxsil Piano Top pistons and a fully rebuilt e12 head. The engine also received a new oil pump, chain, tensioner, rail, head bolts, etc.
Then a rebuilt Weber 40/40 downdraft carburetor and a Tii exhaust manifold were added to take advantage of the higher compression and great flowing design of this combination. The Weber breathes through an ITG filter and is fed through a new Euro six cylinder Fuel Pump which provides the perfect flow to the largest of the down drafts.
The valve cover, intake manifold, and water inlet manifold have all been polished to a mirror like finish, and the engine bay has been fully detailed and includes so many new parts it's hard to remember them all, but here are a few:
The ignition system features a mechanical advance 002 distributor with a new Pertronix electronic ignition, a new Bosch Blue Coil, and new 8mm silicone leads.
The cooling system is also new, with a re-cored radiator, new water pump, thermostat, and all new hoses and all new hose clamps.
The electrical system features a new alternator, new voltage regulator, new battery and new battery cables.
The suspension has upgraded with Tii Front Struts along with Bilstien Sport inserts and matching Bilstein Sport rear shocks. To keep it dead flat, the sway bars have been upgraded to massive 24mm front sway bar, and an adjustable rear 19mm sway bar with poly bushings front and rear, along with new strut mounts and camber plates.
The brake system features a new Tii master cylinder to feed correct fluid levels to the Tii front brake calipers, and it has been fitted with all new brake hoses front and rear, as well as new brake lines from the reservoir to the master cylinder.
The clutch is new and the transmission still remains easy to power through all four gears. Even the pedal box has been rebuilt with all new bushings, springs, and pads. And the engine sounds great rumbling through the twin pipe ANSA exhaust.